OLYMPIA, Wash. (AP) – Fisheries managers are concerned about the impact catch-and-release is having on endangered chinook salmon and have closed salmon fishing two months early in the central Puget Sound.
The Kitsap Sun reports that even when anglers toss them back, many salmon end up dying from the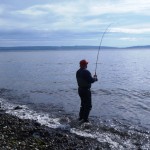 encounter.
The season was scheduled to close Jan. 31. It now ends Monday in Marine Area 10, which stretches from Dyes and Sinclair inlets to Seattle.
Starting Tuesday, fishing will be allowed only from public fishing piers.
Fisheries officials are worried about the high number of chinook caught in the area. The fish are off-limits, but they continue to be reeled in.
Officials say about 15 percent of adult salmon die after getting hooked. About a quarter of all juvenile chinook die after being caught and released.