---
Each Epic Studio Built Fly Rod is custom handcrafted specifically for the owner from start to finish – no detail is overlooked. Each handcrafted fly rod is an investment in premium engineering, componentry and craftsmanship. The very best of everything goes into each fly rod.
The best fly rods are made on the best fly rod blanks.
Sometimes those fly rods are made from modern fiberglass, and sometimes carbon fiber – Graphite to the Americans  – is a better material for fly rod construction.
Two Materials – all great fly rods.
FASTGLASS II™
Epic FastGlass rods are produced from industry leading 8-micron Unidirectional S-2 Glass.
This next generation fiber is specifically engineered for fly rod production and features 8-micron fiber developed and produced in the USA.
These fibers are almost half the diameter of other unidirectional materials, resulting in tighter, more precise and stronger fly rods.
NANO TECH CARBON FIBRE – the high tech fly rod material
100% Uni-directional material – Non-Woven.
Super light-weight construction and superior strength. Non woven Uni-directional material is up to 40% stronger than traditional woven material commonly used by fly rod manufacturers.  A non-woven fibre can achieve 100% of its tensile and compressive loading. Unidirectional material affords super lightweight construction and superior strength.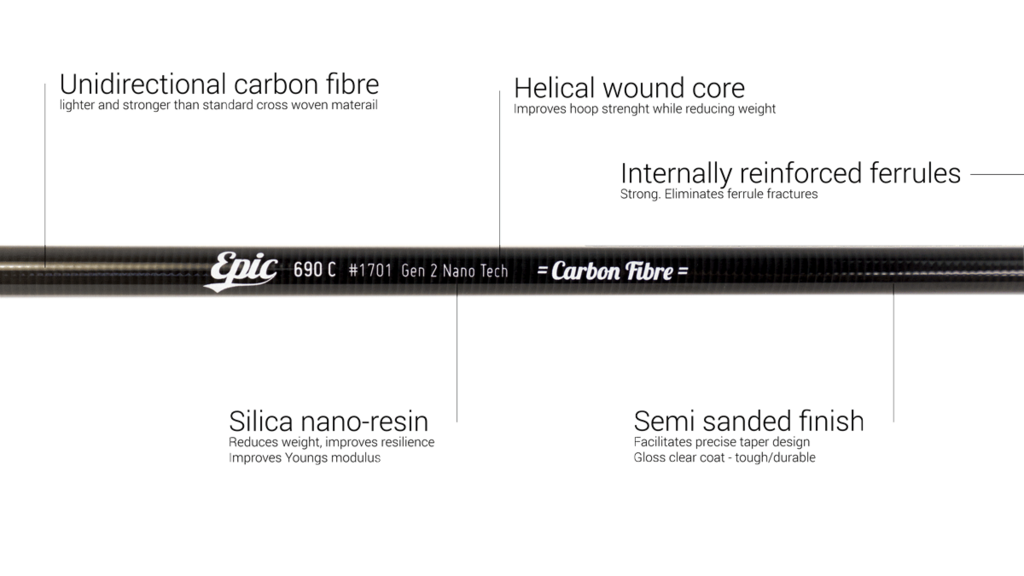 100% Carbon Helix Core
A 100% helical core forms the basis for hoop strength and fibre support in the zero/longitudinal axis and does away with traditional scrim based construction.
Silica-nano technology. Super Low Resin Systems.
Utilizing materials with resin content up to 30% less than conventional materials, Epic C series blanks are lighter and stronger. Low resin materials help increase bending limits & overall response.
Multi Carbon Construction (Multi modulus).
Using only the highest quality fabrics from the USA, Japan, and Korea, up to five different types of carbon are used in each blank. Each type is placed at various parts of the blank to optimize strength and weight. Ultra high modulus fibre boasts the highest tensile and compressive strength of any fibre in its class.
Target Zero Fibre Alignment.
Fibre alignment along the length of any blank is critical. Even the smallest deviation in fiber alignment from the axis of the load will greatly reduce the strength of the blank.
WHERE TECH' MEETS TRADITION
Premium quality fly rods, handcrafted and custom tuned to order using only the finest blanks and components available.
SNAKEBELLY™
SnakeBelly™ is the toughest exterior finish for a fly rod. It delivers the toughest exterior finish possible. After production, blanks are first painted and then clear coated. This two-step process produces blanks that are incredibly scratch resistant and durable.
SUREFIT FERRULE™
Break a tip? we've got you covered.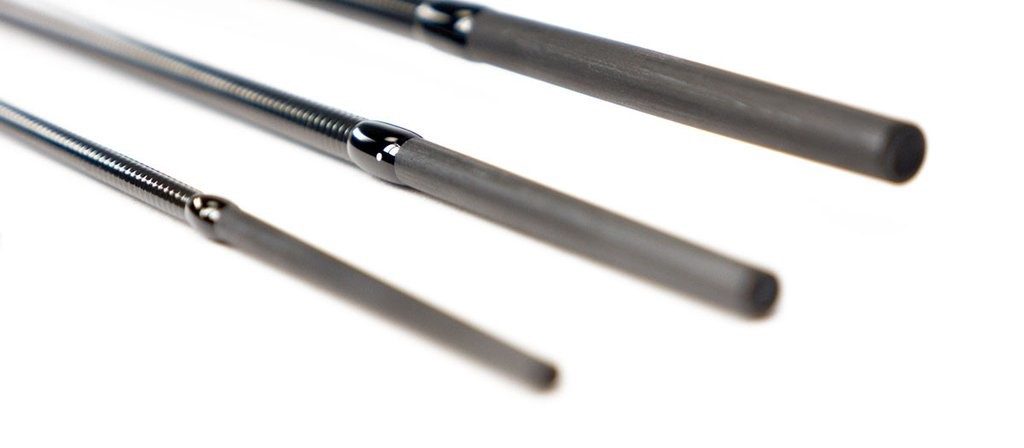 Our ferrule system is so precise that breakages can be addressed by simply sending out the replacement part. Gone are the days of having to return a broken section. Internal High Strength Ferrule.
A high strength internal ferrule is placed at each join to provide superior crush and split resistance.
EACH EPIC STUDIO BUILT FLY ROD FEATURES:
Industry-leading Epic fly rod blank with SureFit internally reinforced ferrule system
Quality fiberglass rod tube, premium handsewn rod sock & Cleaning cloth
Finest quality Portuguese cork grip
Premium quality Epic reel seat
Premium quality stripper guides (Titanium or Hard Chrome)
Best quality Snake guides by Snake Brand™ USA
Premium Japanese silk thread wraps
Decals and stickers
Lifetime Support and Warranty
FLY RODS DESIGNED AND BUILT BY FLY CASTERS AND FLY ANGLERS
We eat, live and breath this stuff. Fly casting is in our DNA. Not only are our master fly rod builders the very best fly rod builders in the business, but they are also accomplished fly anglers. Rest assured your Epic fly rod was designed, developed and handcrafted by people that not only know what they are doing, they actually fly fish – a lot. Premium quality fly rods using only the best quality components available – all guaranteed for life.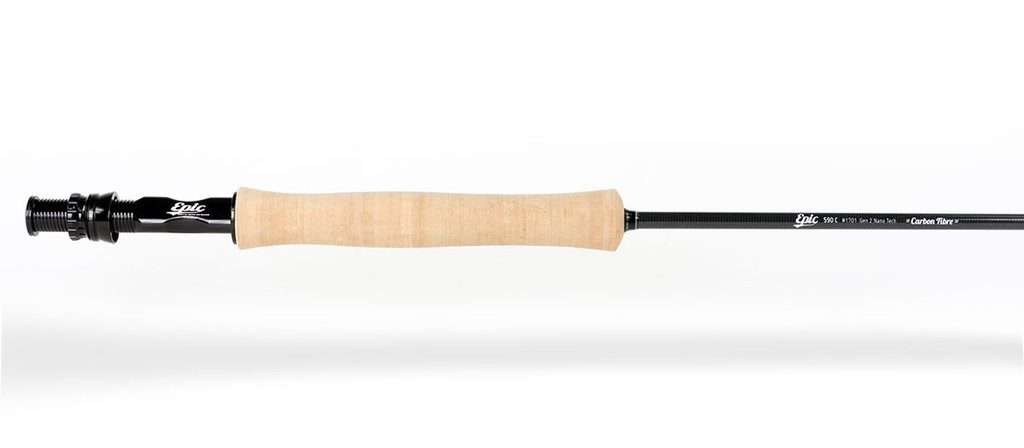 THE EPIC ACTION.
The lockup point develops in the top third of the blank, and although recovery rates are fast (faster than the Scott Radian for example) the Epic C series would best be described as Medium Fast in action. Epic C Series blanks are light without sacrificing strength.
LIGHT
The 590 C blank weighs an astoundingly light 36 grams (1.2oz) 10% lighter than our previous model.
NANO TOUGH
Our use of Silica nano-resin makes for a very tough, lightweight and extremely responsive blank.
At the heart of each of our Carbon Fibre fly rods is what we believe to be the most sophisticated fly rod blank made.
---