By Associated Press Published – Jun 23, 2015 at 12:55 PM PDT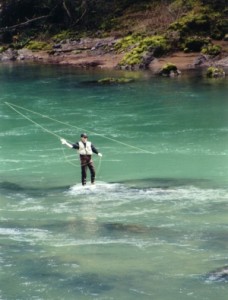 ROSEBURG, Ore. (AP) – The Oregon Department of Fish and Wildlife has imposed emergency restrictions to protect steelhead in the mainstem of the Umpqua River due to the drought.
District biologist Greg Huchko said Tuesday flows are 50 percent of normal, and temperatures are approaching lethally warm levels, making fish seek out cooler water at the mouths of tributaries.
Angling is prohibited within 200 feet of the mouths of tributaries from the top of tidewater at Scottsburg Bridge to the confluence of the North and South forks at River Forks boat ramp.
Huchko says the Umpqua is the only river imposing these restrictions.
The department also moved up the start of fall chinook fishing to July 1, giving anglers who filled their annual spring chinook limits a chance to fish again a month earlier.