---
Spinning reels are extremely versatile and relatively easy to use but there's no true substitute for the accuracy of a bait casting reel that an experienced angler can achieve.  Although requiring hours of practice, bait casting reels can allow professional anglers to cast their lures precisely and stop their lures swiftly to catch bad casts and prevent them from running away. Baitcasters and offshore baitcasters are meant for bigger fish, larger lures, and heavier lines – which makes them ideal for saltwater fishing.
You may have some saltwater fishing experience already but you may be looking for some additional accuracy. This is a good reason to transfer your saltwater fishing skills over to a bait casting reel from a spinning reel. If you're up for the challenge then we suspect that you'll appreciate some advice on how to choose your new reel. Or perhaps you already use a bait casting reel in freshwater. If this is the case than be advised that saltwater baitcasters are built to be larger and stronger than freshwater bait casting reels in order to withstand heavier lines that may be ideal for catching those larger saltwater fish. This means you may need to find a new baitcaster if to try baitcasting on a saltwater excursion or boat trip.
No worries, we'll help you pick the perfect reel.
The Importance of Size
"The larger the fish, the larger the reel" is a good motto to live by. If your target is a large catch like shark or marlin then you will need a larger reel. Smaller targets like snapper won't require as large of a reel.  It's important to remember however that the larger a baitcasting reel gets, the harder it is to cast.
---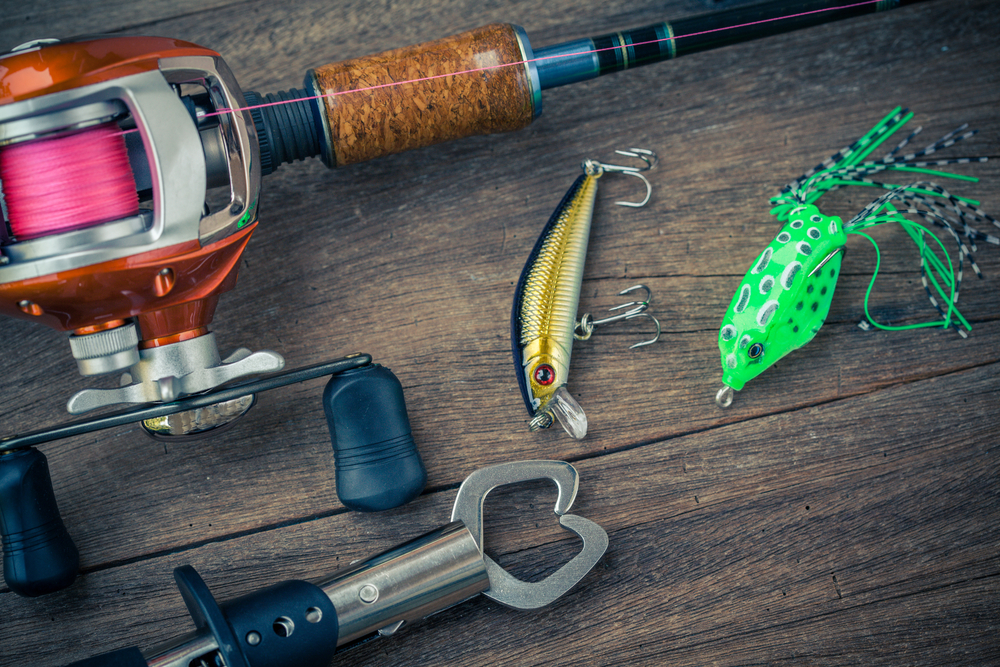 ---
The Importance of Conditions and Technique
Your choice of reel will alter depending on what kind of conditions you plan to fish in. Shoreline fishing requires a regular baitcasting reel. You'll need to use your thumb to manage your line by regulating the speed of the spool and cutting off the cast. If you're talented enough, your casts will be accurate and well controlled.
Meanwhile, boat fishing and deep sea fishing will require what is called an offshore baitcaster reel. These are specifically designed for heavy targets in deep ocean waters. They are particularly durable and you can mount them on the back of your fishing boat. This will give you stability as you try to reel in that heavy catch.
The bottom line here is that if you're fishing in great depths and have the intention to catch some larger fish then you'll prefer an offshore baitcaster.
The Importance of Combination
A bit like putting together the perfect car by mixing and matching the right parts, you'll want to mix and match your rod and line with your reel. The same way that you must decide the type of reel you need, you will want to pick out your line and rod to match. A deep sea excursion on a boat offers an angler the leverage and room to maneuver during a fight and mitigate the stress that the rod, reel and line are subjected to.
If you're stuck to the shore than greater line capacity and heavier drags are necessary to withstand strenuous and lengthy fights at a landlocked position. Fortunately baitcasters generally have a strong drag system and hauling power – making them excellent for long fights.
Popular Baitcasting Reels
Shimano Curado E Reels – These reels are considered top class in the world of baitcasting reels.  Shimano Curado 300EJ features a wonderful power grip and the reel is considered useful for both small target fishing and going after larger catches. One customer even raves about the reels pairing with a MojoBass rod to catch big game fish – including yellowfin tuna.
Daiwa Tatula® Casting Reel – Retailers boast of this reel's durability and advanced technological features. These features include Magforce-Z Cast Control, Anti-Reverse and a 90mm cutaway swept handle to allow you complete control over your cast. If you're shopping for accuracy then this is a good choice.
Abu Garcia® Revo® SX Casting Reel – This is a lighter reel which offers incredible accuracy and is great for shoreline fishing. Although lighter, the reel is still incredibly strong but has the bonus of an ergonomic feel and smooth design.
Get Casting
Make your choice of reel and pair it with a fine baitcasting rod and the proper line. Baitcasting rods are generally built stronger and sturdier than other rods.
Pretty soon you'll be fishing with a unique, well-built baitcasting tool. Remember however that baitcasting takes hours of practice and it could take you all summer (or longer) to become an expert. Don't give up on it though, the benefits of using a baitcasting reel are a worthy tradeoff for the time it takes to perfect the skills necessary to use one successfully. With that said we wish you good luck and bid you to have fun out there.
---